Do you know automated testing, but still find it difficult? If yes, you have come to the right place as we are going to discuss why some users find automated testing hard and a specific automated testing tool called "Testup" which makes automated testing easy.
Let's begin!
Why some people find automated testing hard
Most of the time, good programming knowledge is essential to perform automated testing as it requires to write programming codes. If the tester has no or little programming knowledge, then he or she will find it hard to write required codes. As a result, automated testing becomes hard for them.
However, there are some automated testing tools such as Testup that helps to perform automated testing without writing any programming codes, and it is beneficial for many users who have no or little confidence with coding.
Testing frameworks like Selenium is very complex, and that makes it harder to perform test automation for a beginner. Further, the tester needs to choose the most suitable testing tool for his or her testing task.
What is Testup
Testup is a visual test automation tool to test web applications and it is one of the easy test automation tools on the web. It was developed and maintained by Thetaris GmbH, a group of software professionals. Further, Testup is a no-code automation testing tool. Hence, there is no need to write any code to test the software.
Why do we need to use Testup
There are several automated testing tools available in the industry. But, to use some of the automated testing tools, the user needs to have some advanced knowledge and experience in test automation. However, Testup is different compared with most of the automated testing tools, and it is simple and straightforward to use. Learning Testup is easy, and learning resources can be found on the official website of Testup.
Unlike automated testing tools like Selenium, Testup's visual approach allows the user to carry out test automation without coding. The time required for recording a test can be reduced by the no-code editor of Testup.
Testup can capture more bugs than with manual effort and also capture more bugs before they hit their users. It is also easy to set-up the test environment and takes just a few minutes as Testup is one of the best user-friendly testing tools.
The accuracy of Testup results is high as there is no or little human error involved. Further, the ability to test complex test scenarios with ease and unlimited interactive testing are some other benefits of Testup.
Many WordPress developers face a problem of website crashes after a plugin update. Testup provides an excellent solution for this problem by running a test to see if the website is still working as earlier after a plugin update. If the test passes, the developer can update the plugin with confidence. Further, if you are a blog owner who is not a web developer, then you can update your website and verify with Testup that it is working correctly without the help of a developer or agency.
Testup provides a 100% satisfaction guarantee to meet the expectation of their customers. If you are unsatisfied and want your money back, then they will refund you the last two months.
Considering all the above facts, Testup is an ideal automated testing tool for a user who has struggled with automated testing.
How to perform a Testup testing
Before you can start testing, you have to register with Testup. It is a straightforward and easy process. Testup has introduced two plans named "standard" plan and "enterprise" plan. The standard plan is a monthly subscription. But the user can subscribe for the 7-day-free-trial first in order to get to know the tool. To get started free with Testup, the user can just sign up here. After that, he can start testing by creating projects and tests.
Testup testing has two alternating phases:
Phase 1 – Check whether the website has the correct state.
Phase 2 – Make inputs through clicks, swipes and keys.
A restart of Phase 1 – Check whether the inputs were successful. If yes, can proceed with the next step.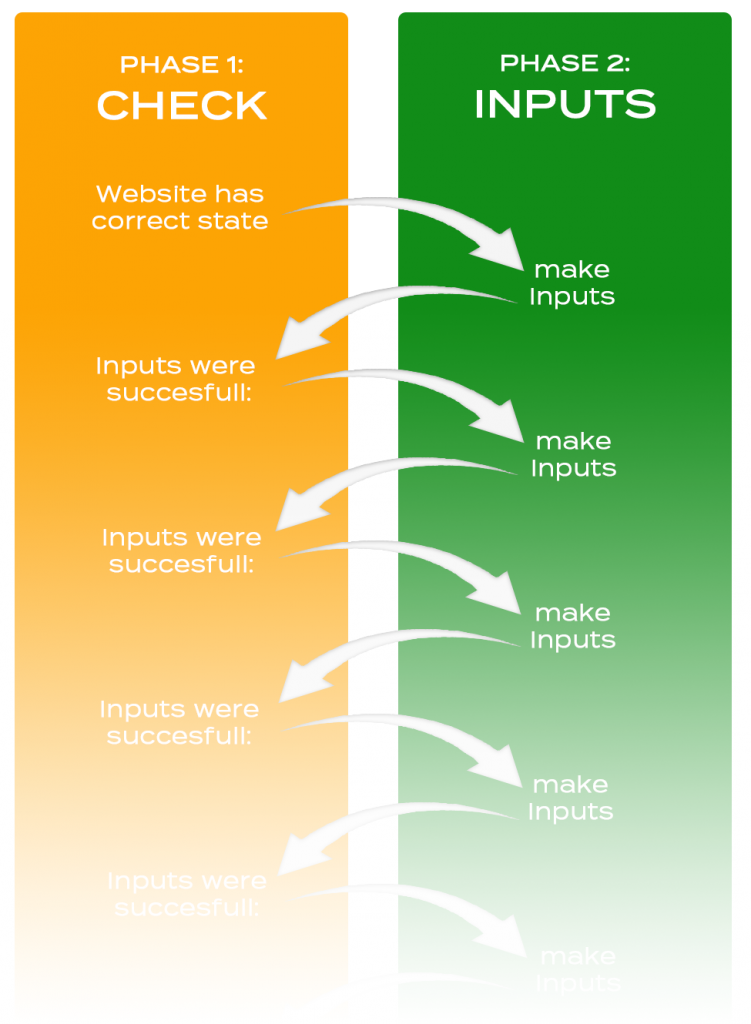 Conclusion
Testup is an excellent automated testing tool for users that know about automated testing but found it too hard. Various features of Testup enable the user to test the software with ease and obtain accurate test results.
We hope you enjoy this article. Happy Testing!